Ina
Ina is the eleventh hero that you will unlock at Stage 900. She is a lot like Astrid but higher critical chance and damage and her abilities are different.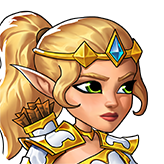 Abilites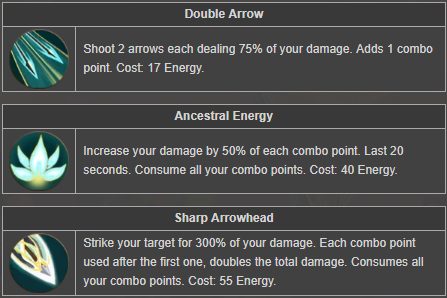 Gear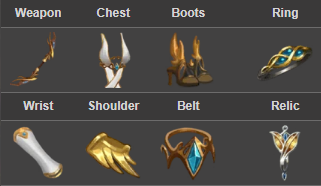 Description
Ina, The Forest Guard
Stage 900
Rogue

Ranged

Damage

Energy

All Attributes
Base Attributes
28
600
30
Advanced Attributes
1.6"
12%
+140%
4%
Ability Attributes
100
9
5
Story
Among the fabled Forest Guards of the Elves is one they call Ina. Her name means "stinger" in the language of the forest Elves. In her culture, the name a child is given is considered to be of the utmost importance - Elves live far longer than men, and the name they carry, they will carry to the grave. When Ina's mother and father first saw her small hands explore the world around her in fluid and precise movement far beyond her years, they knew she would become a great warrior. They chose the name Ina because, like a stinger, she would be silent and deadly.
As years passed, the noisy world of her fellow talking, singing and dancing Elves only irritated Ina more. To her, the academic conversations, ethereal music and the whispering breeze of Elvish dancers were only distractions from the quiet of her mind. After a battle or a skirmish, she would leave the politics and numbers to others, choosing instead to return to the quiet peace of her home. Even as a child, she would play alone, hiding her toys and never speaking unless directly asked a question. Under normal circumstances, this would have created an atmosphere of distrust and nuisance within her community - but as she grew, she showed how truly talented she was in the Elven arts of defense: stealth and efficiency. Elves, though wise, are prideful creatures. They understood the value that Ina held.
When the time came to replace one of the fallen Forest Guards, Ina was the natural choice. To her, taking a post deep inside the forest felt like returning to a home she had never lived in. Separate from her people but bound to them by the oath of the Forest Guard, she adopted a life of true solitude, only communicating with others in the direst of circumstances. Experienced Guards joke that Ina has fired more arrows than words - and this is most likely true. Travelers lost in the Elven woods, who would find their way home spoke of magical plants that pointed in the right direction, or miraculous stumps of old trees filled with fresh water, appearing when they had not found drink for days. Others spoke of a beautiful but silent fairy who peered at them from the leaves, protecting them from feral animals and other dangers that lurked in the shadows of the wood. The elves knew who had helped them, but let the travelers believe in their forest magic. They could rest easy knowing that the Forest Guard would protect their friends and destroy their enemies without ever needing to appear.